Helping pets help us during COVID-19
While the world reels from the long-term effects of Covid-19 and adjusts to the "New Normal", some are really enjoying our extended time at home – our pets.
HEALTH AND WELLNESS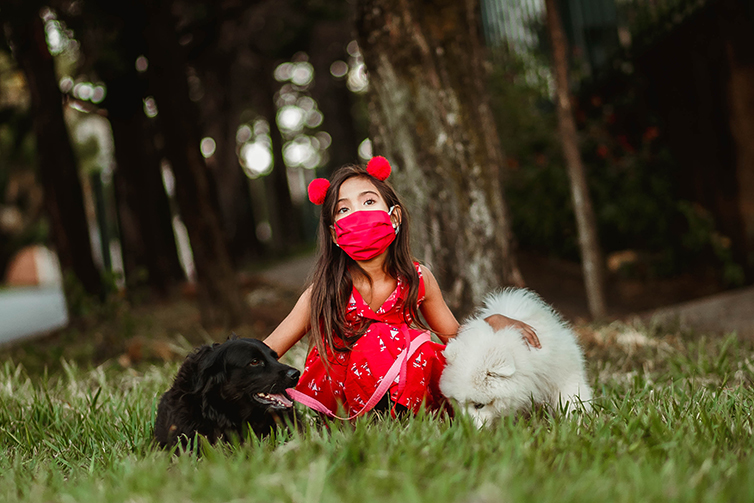 ---
Posted by bravectosouthafrica – 25 February 2021
---
We have always found comfort in our furry companions but being stuck at home has built our relationships with our pets who are receiving a lot more attention. Even those that are back at the office are still spending more time at home on the weekends as our reluctance to visit public spaces continues. And when we do venture out, our habits have shifted to outdoor- and pet-friendly venues which offer better safety from the virus. Fido approves.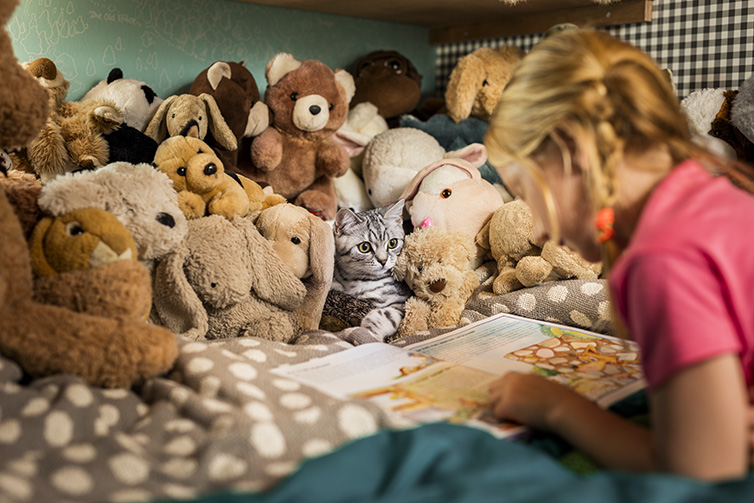 Worldwide studies have shown a distinct increase in the rate of pet adoption and fostering – a US company, PetPoint, that collects pet adoption data has recorded an 8% increase in pet adoptions in the USA.
We know that pet ownership has various health benefits for you but is this new relationship healthy for them?
There are thousands of studies that reveal the emotional capacity of domestic pets, including the fact that they are influenced by our moods and anxieties. So, while they are giving us much-needed company and support, could they also be picking up our Covid-19 stress? And is our isolation creating cabin fever for kitty?
Read on to find out how to keep your pet happy and healthy during the coronavirus crisis.
Get Active Safely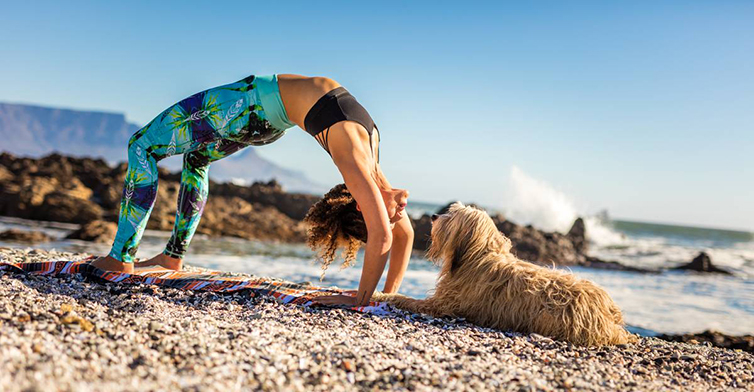 While you are spending a lot more time at home and indoors, it is likely your pet is too. Instead of patrolling the perimeter or exploring the neighbour's tree offering, your pets are likely lying at your feet (or on top of them) while you work or relax.
Getting active will not only benefit your mental and physical wellbeing, it will significantly benefit your pet too. Most public and dog parks have reopened in SA (contact them to confirm opening hours as these may have not been updated on their websites or social pages) and make a great outing for you and your dog. They will enforce social distancing and mask usage so be sure to follow their protocols. Parks are also a great option if you are nervous to eat at a restaurant – pack a picnic to save cash and keep your family safe.
If you are not yet ready for a public space, a simple walk around your garden or complex is still a highly-effective form of exercise. Or simply throw the ball within your own walls.
Be sure to maintain your and your pet's distance from others and their pets as patting a dog from another household can make its owner uncomfortable. Wash your hands before and after your walk just in case you or your pet came into contact with the virus. You can also wipe down your dog's paws and snout to be extra safe.
If you don't have a big outside space or would prefer to remain indoors, try playing games like hide and seek or try teaching a new trick – this physical and mental stimulation will also benefit you in the long-term when your fur kid is able to fetch the remote on command.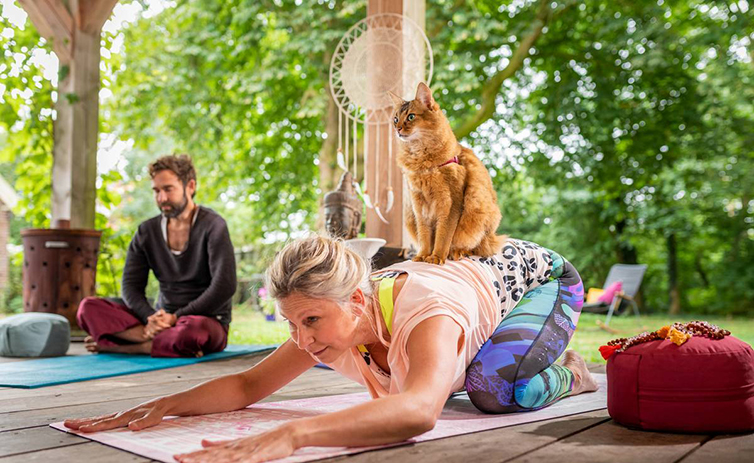 Don't forget about kitty. Cats need exercise too and will probably be a lot less active than usual with you around the house. If you don't want to lock kitty outside to encourage some exploration, play games around the house. You don't need to spend a fortune on toys either – remember the magic power boxes have on cats. Even a scrunched-up piece of paper or hairband can make for hours of feline fun. If you are feeling experimental, check out cat yoga on the net – there are dozens of play-along videos that show you how to get fit with Fluffy.
Working with pets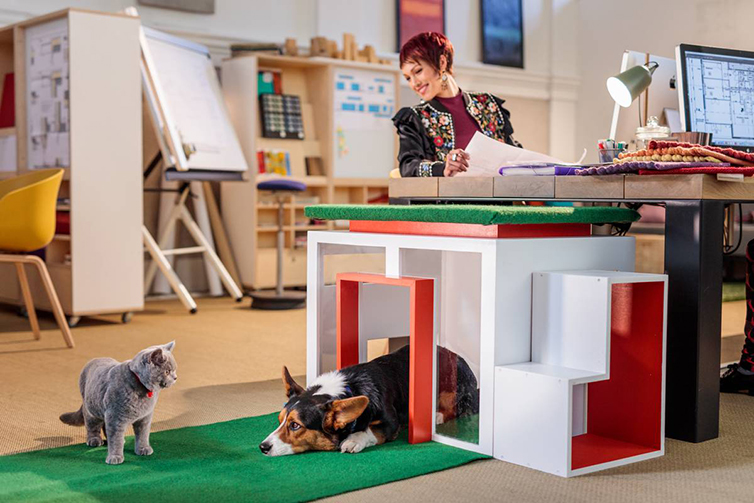 While having your pet around during working hours is a dream come true for some pet parents, it can also be rather difficult to manage. The dogs begin their routine howling session while you're on a video call or kitty decides to make confetti out of important paperwork.
To combat this, make sure you give your pet love, food and attention before an important meeting or deadline. Make time beforehand to give them exercise, food and water so that that are satisfied before you get busy.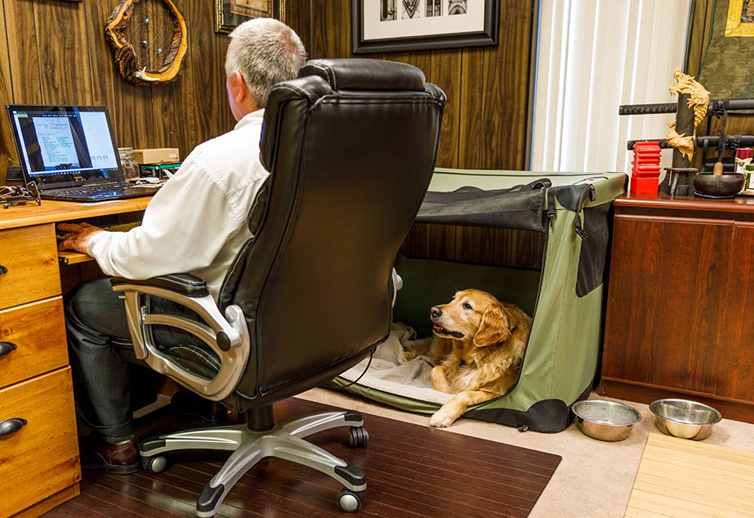 Another way to make them feel comfortable while you work is to put a comfy bed down close by. This not only allows your pet to settle down in your presence but also makes for convenient, therapeutic inter-work patting sessions.
Keeping Human and Fur Kids safe together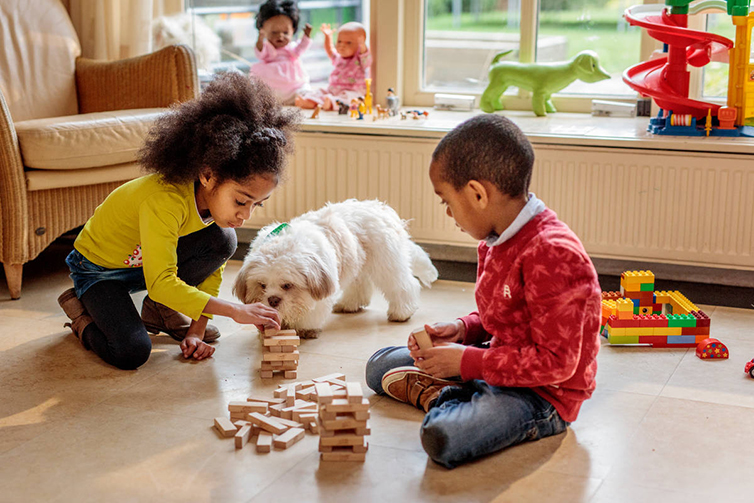 More time together presents a great opportunity for kids and pets to learn how to interact better with each other. Task your children with daily pet play and exercise times which will give you time to focus on other things. Teach your children how to feed the pets and refresh their water – most kids really enjoy this opportunity which again saves you time while teaching children about responsibility.
Make sure to supervise younger children – this is a great opportunity to teach them how to care for animals and also how to interact with different pets. The engagement will not only benefit your pet but the company of a loved animal can fill the emotional hole a child could be feeling due to lack of interaction with their friends and schoolmates.
What if my pet needs the vet?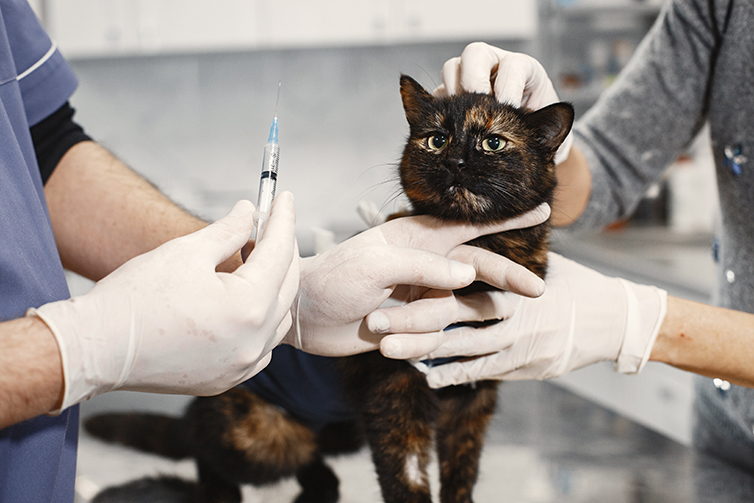 If there is an emergency, your pet is unwell or simply due for an innoculation, don't panic. Most veterinary practices are operating during their usual hours, with Covid-19 protocols in place.
Contact your vet practice beforehand to find out about their safety precautions. Some now require that you book an appointment before you go while others will examine your pet in the safety of your vehicle. Certain vets are offering consultations via video chat. Many have even created new outdoor seating areas to ensure you and your pet are kept safe while waiting for a consultation.
Call their reception to find out what their policy is beforehand to ensure you are prepared when you arrive.
You should also continue your pet's vaccination and pest-control routines to prevent them from becoming infested with pests or infected with dangerous diseases, such as rabies or biliary (tick-bite fever). Most vets will allow for curb-side pick-up of medications and treatments, and some even offer delivery to your door. If you choose a pest-control product like Bravecto®, your pet will be protected from ticks, fleas and mites for between 12 weeks and 4 months for dogs or 3 months for cats, depending on the product you choose. This means less trips to the vet or vet shop. Online pet stores also offer door-to-door delivery.
When in doubt, give your vet a call – they are usually more than accommodating and very understanding of the discomfort surrounding Covid-19 risks.
Helping others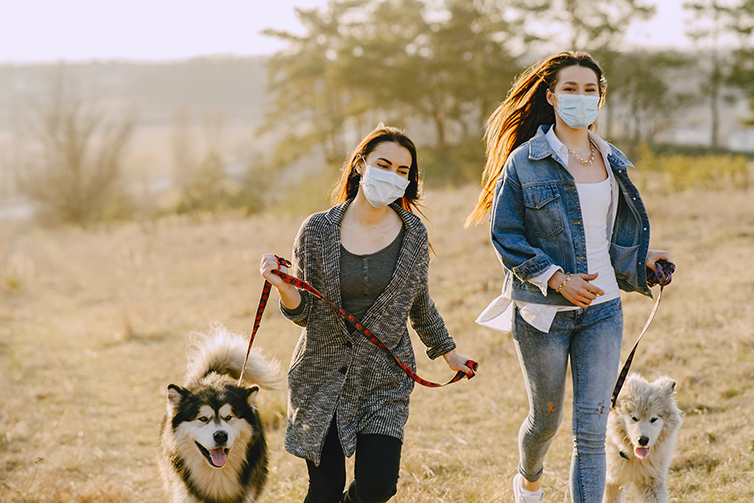 The pet-loving community is renowned for coming together in times of crisis and the global pandemic is no different. You can help out fellow pet lovers by doing the following:
Foster a pet – this takes additional strain off shelters that are struggling with funding
Donate to a shelter – although adoption numbers have increased, Covid-19 fear may prevent individuals from visiting shelters in person – help them out by donating food or blankets
Be a good neighbour – if a neighbour is elderly or high-risk, why not offer to walk or play with their pet? Make sure you take safety precautions, wear a mask and sanitise your hands and equipment (such as leads or toys) before and after.
Recent posts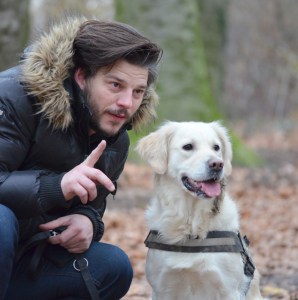 Help! My dog's barking mad! Volume 2
DOG HEALTH
Almost immediately, The Problem presents itself… on your pale cream carpet. Your kids are hysterical. You could pull up your carpet and replace it with tiles. But that's a bit…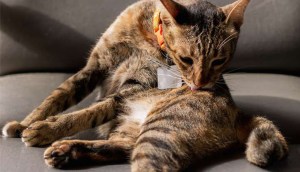 Your Itchy, Scratchy Cat – All About Cat Skin Problem
CATS
Cat Mange/Mites Various species of tiny mites naturally live in the hair follicles at the base of each hair; certain species of these can cause an uncomfortable disease called cat…
Subscribe to our Newsletter
Get to know your furry friend better! Sign up for all things dog- or cat-related.
---